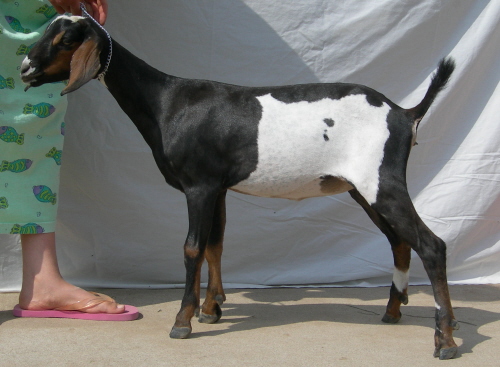 Green Gables EHJ Sapphire
4th gen AMERICAN (pending)
Sire: Echo Hill's Jasper *B (3rd gen)
ss: Echo Hill's Lord Apollo
sd: Hidden Creek's Easter Sunrise
Dam: Echo Hill's Molly O'Malley (3rd gen.)
ds: Echo Hill's King Patrick O'Malley *B
dd: FMCH Hidden Creek's Patches *P
DOB: 3/24/08
SAPPHIRE is a beautiful doeling out of the first goats I purchased from Echo Hill's. She is absolutely beautiful! I was mighty tempted to keep at least one of her triplet sisters as well, but restrained myself and just kept one of Molly and Jasper's beautiful daughters. Sapphire is a very dairy doeling with strong feet and legs and lots of body capacity. Her dam is our best milker giving about 7-8 lbs of milk each day and has given as much as 10# in one day! Molly has a lovely udder and is super easy to milk. Jasper, Sapphire's sire, also comes from a line of great milkers and has given us many beautiful kids. Sapphire will be a great asset to our herd.
Show Wins:
Pictures of Sapphire and her relatives...