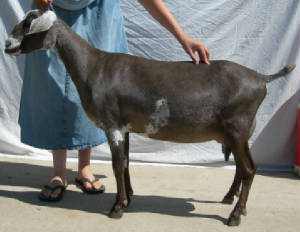 Green Gables CB Zephyr (2nd gen)
Sire:
Country Dreams Charlie Brown
(2nd gen)
SS: Morning-Glow Flax
SD: Carey's Sweet Pea
Dam:
Green Gables Windy Night
DS: Heart's Delight Hershey
DD: The Sim's Muffin
DOB: 2/10/06
Height: 25"
ZEPHYR is young doe who has very nice breed character. Her dam is 75% Nubian so Zephyr is about 60/40 (Nubian/Nigerian). Her ears are quite wide and completely pendulous and her nose is very roman. Zephyr freshened with a wonderful udder. It is extremely soft and well attached. Her teats are very long and easy to milk. She is giving about 4 lbs (1/2 gallon) of milk a day (and she freshened with a single). Zephyr's dam, Windy, is a very good milker giving about 6 lbs per day - see Windy below. Zephyr has lots of body capacity and is over all a very well put together doe.
The judge of MDGA's 2008 V-Show really liked Zephyr and chose her as Reserve Champion after Misty as GCH.
Show Wins:
2007 - 1st place dry yearling and Reserve Grand Champion Jr. Doe in an unofficial online show
Pictures of Zephyr, her kids and her ancestors...